The opportunity to foster their children's physical, mental, and emotional growth is a precious gift for parents. Toys are one manner in which they express their individuality. Toys like ride-on toys allow parents to encourage their children's development of balance, rhythm, motor skills, and an appreciation for physical activity.
Children who regularly engage in outdoor play are likelier to grow up with a sense of curiosity and a desire for adventure. Now, with a ride-on automobile, your child will have no excuse to stay inside. Having the kid actively participate in the game increases his chances of learning something new and having fun simultaneously.
Researchers have found that kids who play with ride-on toys have higher spatial cognition or visual thinking levels than those who do not. Their perspective on the cosmos expands as they learn more about their immediate environment. This ability develops as they experience navigating turns, changes in speed, and other potential disturbances to the journey.
However, with so many options available, selecting the best ride-on vehicle for your child might take a lot of work.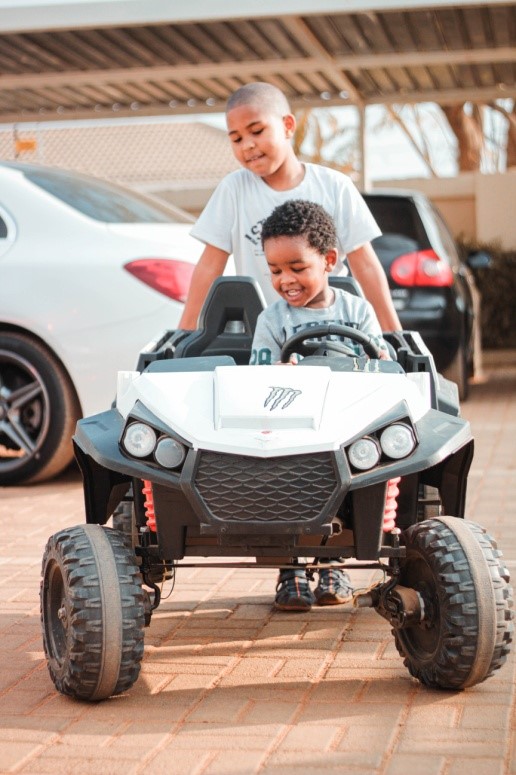 Must have accessories for kids ride on Cars
There are electric ride-ones for children who have outgrown their push toys and are ready for the next level of driving fun. They feature realistic details like a motor, steering wheel, gearbox, and pedal and can be customized with extras like working LED spotlights, horns that can honk, and even MP3/MP4 media players. Many of these automobiles are scaled-down versions of well-known luxury car models. However, instead of being powered by gasoline, these toys run on batteries, the voltage of which dictates both the toy's speed and its run time.
What could be more exciting for your child thrill seeker than a new pair of wheels? Included, of course, are the optional extras and personal touches. Furthermore, these accessories are not only necessary for personalizing their ride-on automobile but also come in help while maintaining its quality. Some of our favorites are as follows.
Covers for Kids' Car
Not the most thrilling extra, but essential if you plan to keep the toy in an outdoor location. The cover, which comes in various sizes to accommodate any ride-on style, can be easily slipped over the head and secured with a buckle or strap around the rider's vehicle's bottom edge to protect it from the elements.
Lights and Traffic Cones
These add-ons are great for teaching kids to judge distances, apply brakes when necessary, and navigate tight turns without swerving off the road. In addition, they can turn your child's regular driveway into an exciting miniature racetrack.
Number Plates & Stickers
Decals are a simple method to give a ride-on toy some real-world character, whether you are looking to simulate police badges, taxi signs, racing stripes, or speedometer gauges. Number plates with the driver's name and, in some cases, the emblem of their country are our favorite vinyl stickers. This a good moment to highlight that we provide complimentary kits for creating custom license plates for each vehicle.
4d Number Plates
Regarding number plates, your child's toy vehicle might benefit from a custom license plate. Pick whatever name you like, in whichever form you like written. Get it printed, whatever you want, including a customized motto below the main text if you like.
Why not make your kid's new motorized toy stand out from the crowd with a personalized license plate? Going by the latest technologies, 4d number plates are trending these days. 4D Laser Cut Display Plates are new on the market, often known as 3D Plus. This one is a clear improvement compared to the 3D Gel type. Letters on the 4D display plates are laser cut from acrylic and then attached to the plate surface for maximum durability. 4D Custom License Plates are the latest plate fad and get many compliments wherever they're displayed.
Handles
Installing a transfer handle on the rear of your kid's car will make picking it up and putting it away a breeze. If the vehicle seems headed for trouble, you can use the added traction to steer it in a safer direction.
Conclusion
Even while there are already many excellent choices, each with a wealth of fascinating features and customizable options, let us finish by looking ahead to the future and examining some of the most cutting-edge upgrades that are sure to steal the show.
Although MP3 players equipped with AUX connections, SD card slots, USB ports, and buttons to change the volume and skip tracks have been commonplace in cars for a while, it is only recently that high-end automobiles have arrived with built-in screens and MP4 players. Your kid's excitement over this toy will skyrocket when they can sit in the front and watch movies or play games on the toy's high-tech LCD screens.
LED lights that can be adjusted via remote or smartphone app make late-night car rides even more exciting, whether serving as flashing emergency beacons or giving your dashboard a neon look.
Doors that open and close properly; youngsters had to scramble well over the side of the vehicle once upon a time to get inside. Many modern ride-on toys, like licensed products like Lambourgini Sian or McLaren Senna, have working doors, and some even have butterfly doors, upping the authenticity and awesomeness factor.